the world is your bedroom.
We believe that boudoir extends outside of the bedroom - our team thrives on the new and challenging location.
in studio boudoir
Our private studio space gives you all of the charm you can imagine for a historic New Orleans suite complete with balcony overlooking Canal St. We've created a truly unique space for clients needing a private escape to relax in for their boudoir experience.
outdoor boudoir
Do you have an amazing location that you want to shoot or love the idea of boudoir in the wild - we do too. We are able to shoot in lush gardens, storied old New Orleans streets and amazing outdoor waterfalls - just let us know what you are up for.
on location boudoir
We love to travel and can bring the sexy anywhere - the beach, the mountains or your home - we can travel anywhere you desire.
About your
Boudoir Experience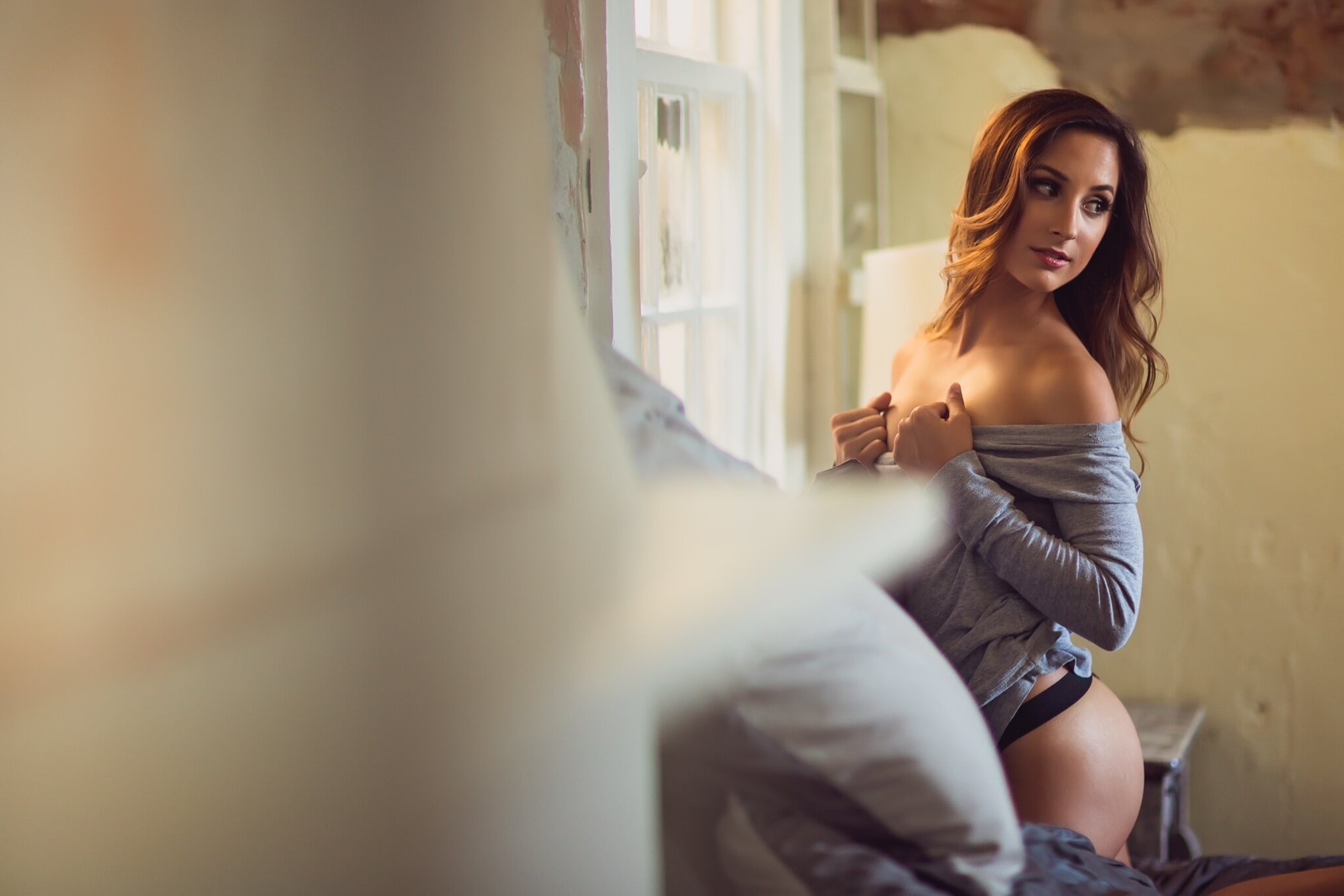 Before your Shoot.
As soon as your session is confirmed, Tina will send you our Welcome Guide – it includes tips on how to prepare for your session, where to shop and lots more.We recommend that you do a little "homework." Start a board on Pinterest with photos of the styles you like, makeup and hair looks and a few poses that inspire you. (Make your board private if your session is a secret! You can share your board with me by inviting me to view it before or on the day of your session.)
Before your session we will have our phone consultation to go over any questions you may have and so that we can make sure to have everything ready for you!
GETTING TO KNOW YOU
Along with your welcome guide you'll get our questionnaire, this will help us tailor your session to you! You'll want to complete the client information form pre-session because it helps me get to know a lot more about you; your session vision, your favorite body parts and those you might be a little worried about.
We also get to know each other even better during the time it takes to do your makeup and hair. When you come in, we'll welcome you with your drink of choice, some music and a chance to relax and take a break from your busy life. We'll talk about everything during that time, like what you've brought to wear, how to style it and what order to photograph your outfits in.
HAIR & MAKEUP
When it comes to hair and makeup, we work with the best. Our boudoir coordinator, Tina, has been in the beauty industry working with some of the top artists for over 10 years and she brings her eye for beauty to our team. This is such an intimate investment in yourself so you should look and feel your most beautiful, professional hair and make-up is included in every session and a relaxing way to pamper yourself before the shoot.
During your Shoot.
Are you nervous? Most clients are nervous when they arrive! This is something, fun, exciting and adventurous! Clients tell us all the time that they DON'T KNOW HOW TO POSE! (That's by far the most common thing we hear!) But don't worry – we will guide you through each pose and we are hear to make you comfortable and feel beautiful!
Posing
We will have certain poses in mind for your wardrobe and body type and we like to try new poses with each client. We're here to help you pose and can even demo what the pose should look like (which is really great when David poses for you!). We'll also refer to your inspiration photos if you bring them or to Pinterest. Don't worry about posing or feeling "funny" – it becomes comfortable for most of my clients within five minutes of getting started!
WARDROBE
You know what you like and you know what looks good and makes you feel sexy, which is why I ask you to bring a wide variety of wardrobe choices. We tell everyone to bring their favorite lingerie, and at least one solid bra & panty set, but really, the sky is the limit. And don't limit yourself to just lingerie. This is a time to have fun and try something you've always wanted to wear. Favorite little dress, coziest sweater, superhero underwear, lace corset, latex jumpsuit, Mardi Gras headdress...I could keep going, but you get the idea. I do suggest you bring more than you think you will need or want, and during our consultations, we can discuss wardrobe in detail.
We have an amazing collection of lingerie, accessories, shoes and jewelry for clients to use for their shoot in our boudoir collective closet.
After your Shoot.
You'll be starving! We know hardly anyone eats before a session. So after your session you'll have a chance to grab a bite at one of the many awesome restaurants around our studio before heading back up to see your images! That's right, you get to see how good you look that day. We will take our time to go through each image with you and decide on which ones you want to create your books or canvases.
Image Selection
After you grab a bite to eat we will have your images ready to preview - that's right, you'll get to see your images that day! We will go through each image with you to decide which you love the most and trust me this is the hardest part, as most of our clients love EVERY IMAGES! Once we go through the images you'll choose what products you want to purchase and how you want to pay - once this is complete we'll start on your gorgeous album, canvas or usb drive.
RETOUCHING
Our retouching style is very natural and subtle. Our goal is to achieve a great image of you in camera with lighting and posing but sometimes even professional models need a little help. With retouching we remove the distractions, it can be things like flyaway hairs, environmental eyesores (like wall outlets or marks on furniture and bedding) and of course, skin imperfections. If it's something that is temporary, like a blemish or bruise, we will remove it but if it something that is a part of you, we want you to look like the best version of yourself, not someone else. After your session, we'll meet up in our studio to review your images and select your products. Every image you select to purchase is tastefully retouched for the very best results.
IS BOUDOIR PHOTOGRAPHY FOR ME?
Feeling nervous is completely normal! The fun part of the Beausoleil Boudoir experience is that it really is for the everyday woman! We believe confidence is the number one key to getting what you want out of life. A woman plus confidence, watch out! Whether your shoot is for that special someone or simply for your eyes only; you will never regret the end result! We have so much fun with you during the day of the shoot and once you see your amazing pictures, you'll be so happy you did this!
IS MY PHOTOGRAPHER A WOMAN OR A MAN?
You have a choice with the Beausoleil Boudoir! Everyone has their own unique style, as do our photographers. We urge you to choose your photographer based on their style and photography type since both Christie and David have a knack for putting clients at ease and a talent for boudoir. During your session, whether you shoot with Christie or David, your boudoir stylist will be there for touch ups and posing guidance.
WILL MY PHOTOS BE ON THE INTERNET?
Not unless you say it's ok! Every client featured on this website and blog has given explicit permission to post her images. If you aren't comfortable with any images being shared, we completely understand! Read our complete policy about client privacy here: Our Privacy Promise
I HAVE SOME IMPERFECTIONS. CAN YOU GET RID OF THEM?
In most cases, yes. Removal of small blemishes and skin softening is all part of the retouching process. Please note: We do not do extensive body reshaping as part of retouching. We want you to look as natural as possible. If there is something you feel self-conscious about, we can use poses and lighting to emphasize your best features.
WHAT IF I LOOK NOTHING LIKE THE GIRLS ON YOUR WEBSITE? I'M OLDER THAN, NOT AS THIN AS, MY SKIN DOESN'T LOOK FLAWLESS LIKE THE WOMEN ON YOUR WEBSITE, CAN I STILL BOOK A SESSION?
Waking up and rolling out of bed looking fabulous said no one ever! All of the girls on the website are everyday women just like you. With the use of hair, makeup, lighting, posing and sexy outfits; we've got you covered!
And remember not everyone is comfortable with their photos being online. We photograph many women over 50 and well into the plus sizes. What we promise is that we will create images to flatter YOU. We want to your personality to show.
I DON'T KNOW HOW TO POSE!?
We never expect you to pose yourself. We will be guiding you on poses to accentuate your best features. We will be instructing you on where to look, where to put your hands/feet; the whole thing! Tina has YEARS of boudoir experience both behind the scenes and in front of the camera - she will be at your session to help pose you and guide you through the process and make sure you look your best!
DO I BRING MY OWN LINGERIE, OR DO YOU PROVIDE THE OUTFITS?
You need to bring your own lingerie to the photo shoot. Select outfits that suit your personality and body shape, and complement your skin tone. Not sure where to start with that? We have friends in sexy places to help you - our wardrobe stylists can help with outfit ideas, or if you'd like to book a consultation to discuss wardrobe, send me an email!
WHAT ABOUT HAIR AND MAKEUP, DO I DO IT MYSELF?
Hair and makeup is included in every All Inclusive Package we offer. Our stylists have been hand-picked for their talents and professionalism. We want to provide an experience that makes you feel beautiful and pampered.
CAN I BRING A FRIEND TO MY SHOOT?
We love to keep the focus on you so we recommend that you set aside your boudoir time as "me time". If you feel more comfortable with a friend coming along, you are more than welcome to bring them. But, please limit guest to 1 per shoot and we will ask them to enjoy our lobby while we shoot. (There are plenty of bars, museums and entertainment around if your guest wants to check out our space before we shoot and needs something to do while we make you glamorous!)
WHERE DO THE SHOOTS TAKE PLACE?
In New Orleans at our luxury studio loft : studio loft NOLA. We have created the ultimate pampering boudoir location for our clients in our bright and airy space (Check it out HERE). We are also available for travel to your hotel in New Orleans and surrounding cities, shoots are done (by appointment only) in luxe hotels, architecturally distinct historic buildings, beautifully restored Victorian mansions and other hand-selected locations. Location will be chosen based on consultation and confirmed and sent to you prior to your shoot. We do offer in-home sessions at private residences as well. Just let us know beforehand!
I'M READY TO BOOK A SHOOT, WHAT'S NEXT?
Once you let me know what date you'd like to shoot we will send you a booking proposal and contract. The contract must be signed and a non-refundable retainer is due to reserve your shoot day/time. The remaining balance is due on or before the day of your shoot. But, as always I also offer payment plans if you need a bit of flexibility in order to purchase the package you really want.
I'M NOT SURE WHAT Á LA CARTE ITEMS I WANT TO ORDER YET, CAN I DECIDE WHEN I SEE MY PHOTOS?
Absolutely! After the shoot we will have a personal viewing session to view your images and discuss product options where we will choose your best images together and pick the perfect product for them. Once you decide on what you'd like to order (additional albums, individual prints, canvases, paintings etc), 50% of the total is due to begin work on the design and the remaining balance is due when you pick up your order. We do not release product orders without full payment.
WHAT IS YOUR REFUND POLICY?
Due to the custom nature of photography, the session price and any products ordered are non-refundable. You have final say on the retouching and any custom album design and nothing goes to print without your approval.
We care about your Privacy.
We take your privacy very seriously and will never share your images online or in print without your written consent. Every image you see on the website has been approved by the woman in the photo.
During your shoot your photographer and stylist will be the only people present, as we believe that maintaining a personal dynamic is very important to our work. Creating a comfortable atmosphere where you can relax and trust us is how we create incredible images for you.
Everyone has the option to keep their images private or share their images at many different levels; from only detailed shots, anonymous images to sharing your beauty with the world, it's up to each women. Whether you are a celebrity, have a high profile career, or like to keep your personal life private, we commit to keeping your images and personal information 100% confidential and sharing only what you want to share..
We have built a solid reputation based on trust. We never pressure our clients into sharing their photos, it is your choice and we respect that.